All News
5 July 2021 | Tübingen
Newly established RHET AI Center to focus on the societal impacts of artificial intelligence
The center will explore ways of facilitating a well-informed public debate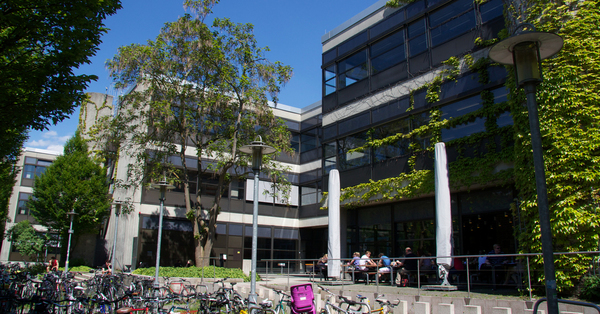 The faculty of humanities (Brechtbau) at the University of Tübingen © University of Tübingen
Artificial intelligence (AI) poses enormous social, cultural, and ethical challenges. This raises a number of pressing questions with regards to how (self-)learning systems work and can be used, the risks and opportunities of AI, what interaction between intelligent systems really means, and how automated decision-making systems can alter public discourses.
Well-known AI researchers such as Professor Bernhard Schölkopf of the Max Planck Institute for Intelligent Systems have spoken of an AI revolution that will change the world. While research in the field is advancing rapidly, the prospect of widespread AI-based technologies has not only been met with enthusiasm. In fact, the current social debate has also revealed widespread skepticism, doubt, and fear. At the same time, German and European policymakers are only beginning to discuss approaches to regulating AI research and applications.
To examine these and related issues, the University of Tübingen has announced it will establish a Center for Rhetorical Science Communication Research on Artificial Intelligence (RHET AI). The Volkswagen Foundation will fund the center with 3.9 million euros.
Under the direction of Prof. Olaf Kramer of the University of Tübingen's Rhetoric Department, experts from different departments, fields of research, and institutions (see full list below) will collaborate on joint research projects. Research will focus on a comprehensive analysis of societal debates about AI, with the ultimate aim of developing new ways for researchers to communicate with different stakeholders and interest groups.
Developing and testing new approaches to communication
"We are interested in how we can facilitate a well-informed public debate. We are investigating how we can contribute to an informed critical discussion that takes the enormous social implications of AI into account," says Kramer. In so doing, the RHET AI Center is concerned with understanding current discourses. Through the lens of the humanities and cultural studies, it will examine the rhetorical, linguistic, and audiovisual elements of AI narratives in society, the media, and the arts. Furthermore, the center's researchers will develop new approaches to science communication, which they will test at the regional and national levels. This will include, for instance, a constructive examination of conflicts, colliding interests, and a general sense of insecurity. Even if they often go unnoticed, AI systems already have an impact on our daily lives. The need for public information is thus growing rapidly.
"By exploring how people talk about AI, how they express their attitudes toward it, and the language they use to discuss the research, we want to provide impetus for the development of new communication formats," says Prof. Annette Leßmöllmann of the Department of Science Communication at the Karlsruhe Institute of Technology.
For Prof. Susanne Marschall, a media scholar at the University of Tübingen whose research in the project focuses on visual communication, representations in science fiction films play a role in how people visualize and understand AI: "For instance, we are interested in the ways in which AI developers in the field of robotics represent themselves and their work, which appears to be influenced by film and literature."
In cooperation with the Max Planck Research School for Intelligent Systems (IMPRS-IS), the RHET AI Center will develop a rhetorical training program that aims to enable young researchers to better communicate with society at large. Moreover, an exchange program with the International Observatory on the Societal Impacts of AI and Digital Technology (OBVIA), which is based at Université Laval in Québec City, will provide an additional international perspective on the process of reflection on AI research and its impact on society.
Interdisciplinary research in close cooperation with practitioners
The RHET AI Center will comprise five units, which will work across disciplines and in close cooperation with practitioners. For example, methods of participatory science communication will be further developed and rolled out in AI Cafés and in the "I am a Scientist" series across Germany. "It is important to us to reach out to the age group that will experience the possibilities and effects of AI first hand in the future: children and young people. With its extensive expertise in this area, Wissenschaft im Dialog (WiD) will help us reach many schoolchildren to talk about the opportunities and challenges of AI. This will enable them to make informed decisions about AI some day," states Christian Kleinert of WiD. Based in Berlin, WiD is a national organization for science communication.
For Cyber Valley, the cooperation with RHET AI not only provides additional insights for the development of formats that promote exchanges between science and society, it also enables the continuation of the "AI and Journalism" journalist in residence program, which was already very successful as a pilot project. "The RHET AI Center is another important building block for including different academic and societal perspectives in AI research and in the transfer process to AI applications," says Patrick Klügel, Cyber Valley Public Engagement Manager.
RHET AI Center partners:
Prof. Olaf Kramer, Rhetoric Department, University of Tübingen
Dr. Markus Gottschling, Rhetoric Department, University of Tübingen
Prof. Susanne Marschall, Institute of Media Studies and Center for Media Competence, University of Tübingen
Dr. Erwin Feyersinger, Institute of Media Studies, University of Tübingen
Prof. Annette Leßmöllmann, Department of Science Communication, Karlsruhe Institute of Technology
Prof. Bernhard Schölkopf, Max Planck Institute for Intelligent Systems and Tübingen AI Center
Prof. Matthias Bethge, Tübingen AI Center
Prof. Ulrike von Luxburg, Machine Learning for Science Cluster of Excellence
Prof. Philipp Berens, Machine learning for Science Cluster of Excellence
Christian Kleinert, Wissenschaft im Dialog (WiD), Berlin
Patrick Klügel, Cyber Valley
Related Articles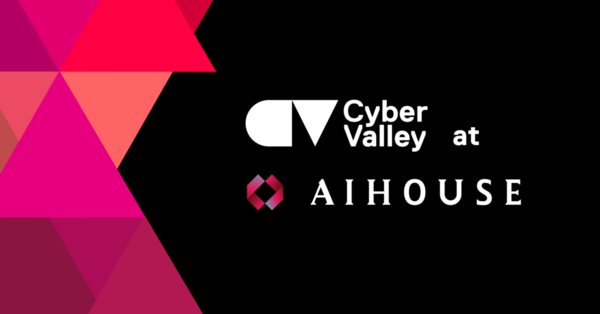 20.11.2023
The International Forum for AI Progress at the World Economic Forum 2024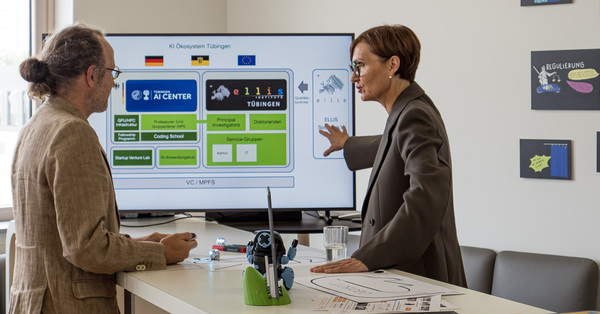 08.11.2023
AI excellence meets international reach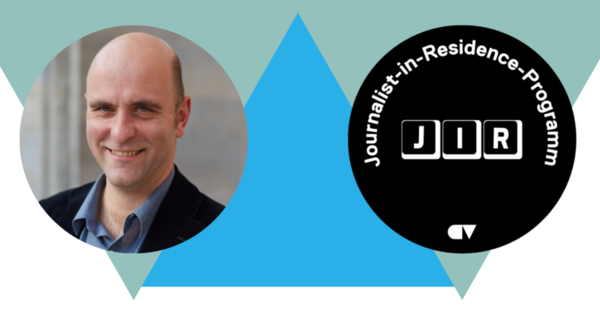 02.11.2023
6 Questions for Cyber Valley's Journalist-in-Residence Tobias Asmuth